Indulge in the delectable Chicken Tikka Salad, a perfect blend of tender chicken, crisp and fresh vegetables, and a tangy, flavorful dressing. This salad is a feast for your taste buds, combining the succulent flavors of marinated grilled chicken with the vibrant crunch of garden-fresh veggies. The zesty dressing adds a burst of flavor, making every bite a delightful experience. Treat yourself to this healthy and satisfying salad that combines the goodness of protein and vegetables in one delicious dish.
User
Paneer Tikka Salad Tikka paneer, cherry omatoes, cucumber and veggies. Tasty and yummy salad Description in 50-60 Words
ChatGPT
Indulge in the delightful Paneer Tikka Salad, featuring succulent pieces of tikka paneer, juicy cherry tomatoes, refreshing cucumber, and an array of colorful veggies. This salad is a treat for your taste buds, with the perfect blend of flavors and textures. The tikka paneer adds a deliciously smoky and spiced element, while the fresh vegetables provide a crisp and refreshing crunch. Topped with a tangy dressing, this salad is a wholesome and tasty choice for a satisfying meal. Enjoy the goodness of paneer and veggies in every bite of this delightful salad.
Cuisine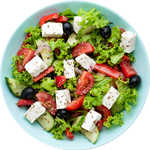 Healthy