India is known for its numerous cultures and cuisines, and winter food is no exception. With the arrival of winter and the consequent increase in appetites, it's time to stock up on wonderfully warm delights made specifically for the chilly season. Get rid of your calorie concerns and plunge into the freshly home-cooked platters of winter food in India!
Here's a list of some of the best winter meals in India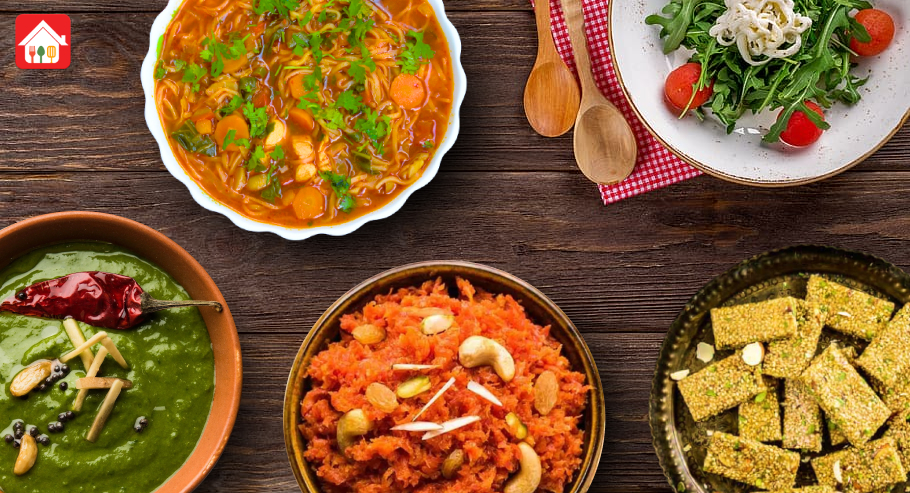 Sarso ka Sag
Sarson ka Saag is a green sarson leaf recipe that is best served with Makke ki roti and is a much-anticipated tasty Punjabi delicacy in homemade food selling app. Without a pat of white butter on top, this traditional winter dish in India is incomplete. Saag is not only a tasty dish, but it also contains a lot of nutrients. Mothers love to feed you Sarson ka Saag, and you can't get enough of it.
Gajar ka Halwa
Every household's go-to dessert throughout the winter is the famed Gajar ka Halwa and the best option in home cooked food apps. You salivate just looking at the boiling hot halwa drenched in ghee. The addition of dry fruits on top is simply enticing. Gajar ka Halwa is a winter preparation since the tastiest carrots are available during this time of year, and it is well worth the wait all year!
Thukpa
Thukpa is a flavorful Indo-Tibetan noodle soup, and this sizzling hot vegetarian bowl is ideal for keeping you warm and cosy. It comes in a variety of flavours: the Nepalese Thukpa is hot, while others are milder with a dash of garam masala. The noodle soup concept is pleasing to the palette and makes a delicious dish of comfort food for the winter and the best homemade food products.
Carrot Poriyal
Carrot Poriyal is a South Indian variation on the traditional bean Poriyal. Fresh carrots, which are extremely tasty, are used in the recipe. Carrots are stir-fried with a variety of spices, including chilli paste, cumin seeds, and coconut that has been freshly shredded. The sweetness of the carrots combined with the heat of the chilies creates the right balance, making this a great side dish for any Indian meal in the home made food app.
Undhiyu
Undhiyu is a dish that takes hours to prepare, but the time and work put into it pay off in the end. This wintery-Gujrati dish is made up of mixed veggies, fenugreek, tonnes of ghee, and spices. Winter cuisines are typically rich and indulgent, however, Undhiyu is a great example of healthful winter food in homemade food services.
Rabdi
Rabdi is a popular Indian delicacy, and Sakarkand, or sweet potato rabdi, is a seasonal speciality in home cooked food apps. Given the large amounts of milk, sweet potato, saffron, and cardamom that go into it, it has a high nutritional value. Wrap your blankets about you and dine on this super-sweet meal, which is also a great option for the health-conscious.
Gur Sandesh, Rasmalai and Rasgulla
Date Palm Jaggery is only available during the winter months and is a blessing for Bengali sweet-toothed people. The Rasgulla, Rasmalai, and Nolen Gur Sandesh are to die for! The mouth-melting sweetness of the mithai, paired with some delectable Rabri or Rasmalai, is just right for your sweet-winter cravings. It is a popular Bengali treat, especially during the winter months and home made meals delivered to your doorstep.
Gond Ka Ladoo
The edible gum derived from tree bark is used to make Gond Ka Ladoo. This is one of those desserts that you can enjoy all year long while also benefiting from its specific nutritional properties to help you combat the winter chills. Because it is claimed to be extremely hot, the Ladoo can keep you warm by heating your insides. It can be stored for a long period, perhaps even months, once prepared.
Beetroot Thora
Beetroot Thora, a South Indian winter dish rich in nutrition and flavour, is a fantastic accompaniment to your rice meals. Thoran is made with chiles and Haldi, and the beetroot is stir-fried with spices to finish it off. It's considered a winter meal because it has the right balance of sweet and spicy flavours, which is perfect for warding off the chills!
Lapsi
Lapsi is a popular breakfast treat in Gujarat and parts of Rajasthan. In different sections of the country, several types of lapsi are accessible. The dish has a substantial amount of ghee, dry fruits, broken wheat, and raisins. It's a delicious breakfast treat that will keep you warm all day.
Methi Pakora
With the greatest methi vegetables available in the winter, it's crucial to take advantage of the opportunity to enjoy pakoras with a hot cup of Chai. Methi pakoras are seductive, and there's no limit to how many you can consume. You have until next winter to eat to your heart's content.
Malai Makhan
Between October and March, Malai Makhan, also known as Khimish or Daulat ki Chaat, is a seasonal beverage. This drink is created by churning milk and cream until it grows into a feathery-froth, which is rich in preparation but lighter in flavour. Finally, it's topped with dried fruits, khoya, or saffron. It's a terrific winter drink to have with a hearty breakfast in the morning.
Til pitha
Til pitha is a sweet Assamese delicacy. It's a type of pancake with sesame seeds and jaggery inside. Because the best jaggery is found in the winter, til pitha is also best prepared and served during the winter in India. It's a delicious combination of soft and crispy that can be eaten at any time of day.
Chikki
A great crispy dessert is the Indian healthful bar of nuts and jaggery. You can replace your chocolates with this healthier sweet alternative. It can be used as a snack, a tasty dessert, or simply something to gnaw on while you're bored. A daily chikki will keep the winter chills at bay!
So now you know what to eat in India during the winter to keep you warm and cuddly. Don't lose out on the opportunity to enjoy as many winter foods as possible before the next season arrives. Food next door provides all the best winter dishes at your doorstep with a home food selling app.